These colleges pack a punch of school spirit. What does that mean? Students, professors and alumni take pride in their campus, institution and alma mater.
1. Texas A&M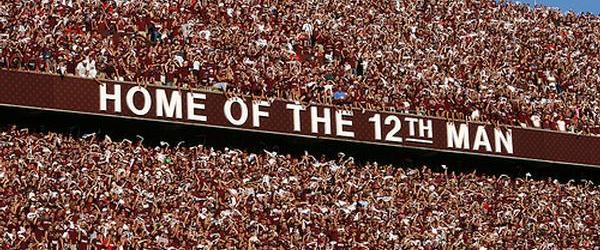 College Station revolves around one thing and one thing only: Texas A&M University. The most potent A&M pride courses through the veins of the students and a large amount of tradition fosters the school's close-knit student community. Locals have lots of customs like "howdy" greetings, 12th Man yells, the annual ceremony of setting a large stack of kindling on fire. The Aggie Ring best symbolizes A&M's fierce school pride; alumni and current students alike sport the ring. The ring helps other Aggies identify one another outside of campus, ensuring that the A&M spirit lives on even after graduation.
Website: http://www.tamu.edu/about/coreValues.html
2. Louisiana State University
Louisiana State University is known to all Southerners and most people know at least one person who attends or graduated from the school. As a large college, it maintains the sense of community that smaller schools have. LSU keeps a tight-knit student group despite its large size. The team name is the Fighting Tigers – a loyal group as evidenced by their voluntary insistence on wearing shirts and sweaters in the colors of purple and gold. Proof that school spirit is alive and well here is found at Tiger Stadium during a Saturday night game. In 1988, the crowd was so loud and large that they literally shook the earth with their stomping. The game was recorded by the university's seismograph meter across campus. How is that for school spirit? Hold em' tiger!
Website: https://www.lsu.edu/universitycollege/ucfy/

3. Ohio State University
The Ohio State Buckeyes take their school spirit seriously as evidenced by their record of high quality academics and a reputation for being one of the only four universities to have ever won a NCAA national championship in baseball, basketball, and football. The wild devotion to everything scarlet and grey is best shown in the school's annual Beat Michigan Week, which raises up the school spirit of the student population to cheer their sports team to victory against the University of Michigan Wolverines. During this week are many fun festivities, like a party marathon and chili cook off to encourage student mingling and camaraderie, but it is in the final Beat Michigan event that loyalty is truly tested. O-H-I-O is their game chant!
Website: https://ohiostatebuckeyes.com
4. University of Southern California
Is on of the oldest private schools in California and has long ago garnered a devout fan base. They have done exactly that since USC first opened its doors in 1880. The maniacal embrace of the USC Trojans shows the great pride that students feel for their college. USC students are so protective of their school that during the week of the big football game against the UCLA, they cover Tommy Trojan, a bronze statue of a Trojan warrior standing in the heart of the campus, in tape to prevent UCLA students from defacing it. USC students also have an all-night watch over the statue to make sure no one can ruin it.
Website: https://about.usc.edu/traditions/
5. Pennsylvania State University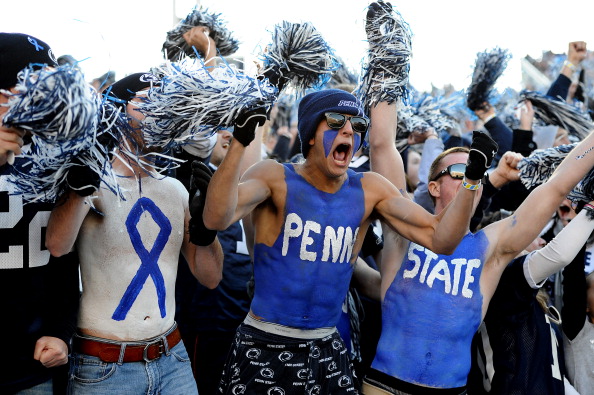 Blue and White school spirit is as strong as ever on Pennsylvania State University's campus. Students showing their school colors are a typical sight on campus, even on non-game days. Penn Staters are infamous for the fact that they are Penn Staters, a fact that relatives of these students know all too well. Students here are some of the most loyal and passionate football fans in the country. They rally behind their beloved Nittany Lions college team in both good and bad times. Now that's true pride. Fight on, State!

Website: https://blueband.psu.edu/penn-state-alma-mater
6. University of Michigan
The oldest university in Michigan contains some of the most craziest and lively cheerleaders in the country. Hundreds of maize and blue-hued shirts and sweatshirts move can be seen on campus any day as students move around between classes. Come game season college colors explode off of clothing and onto banners, sidewalk chalk drawings and bodies all over campus. Need more evidence of UMich's loyal following? Attend any of the college games and you'll see them packed with school spirit. The school's stadium, called Michigan Stadium, is large and can seat up to 107,501 screaming fans. And scream those fans will, especially when their beloved Wolverines are facing off against their rivals the Ohio State Buckeyes. Perhaps partially deafening the opposing team is a cunning winning strategy. Go Blue!
Website: http://ssw.umich.edu/student-life
7. University of California Los Angeles
You will know if you've met a current UCLA student as they will will either mention their much-loved school at least once or twice during the conversation. Bruin pride arrives from much more respectful sources than attempts to schmooze, but this devotion comes from the school's fantastic academics, prime location in the country's second largest city, and of course, sports domination. The school wins more NCAA championships than any other school in the nation, which is why they rank so high on our list. Go Bruins!
Website: https://admission.ucla.edu/admitted-students
8. University of Texas
Austin is known for much more than just the University of Texas, namely for its lively music scene and as the hub of Texan politics. The Longhorn school spirit is most noticeable during game season when the atmosphere is intense and there are enough orange banners and paint around the city to to show the school spirit. Undoubtedly such strong spirit helps to foster a feeling of home field advantage. The school also boasts some of the finest academics in the nation and top research facilities. They have a formidable college football team that won many national football championships that help to improve school pride. After graduation University of Texas students are known to repeatedly go back to Austin to cheer on their alma mater. Hook 'em, horns!
Website: https://www.utexas.edu/about/history-and-traditions
9. Duke University
Ranking as one of the best academic programs in the country Duke gives students a lot to be proud of. Duke students love their school and let people know it on a daily basis. Blue and white clothes dot the mammoth North Carolina campus. Undoubtedly, the school's policy of having students live on the campus for three years of the undergraduate experience grows the community feeling. Many Duke students stay on campus for all four years. When students refuse to leave school, you know they love being around!
Website: https://www.duke.edu/
10. University of North Carolina Chapel Hill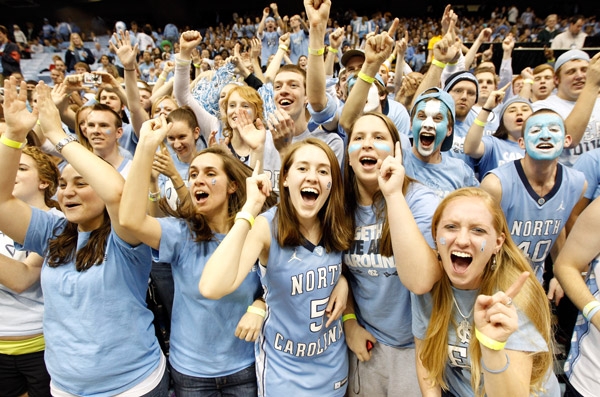 With its first students arriving in 1795, UNC is one of the oldest public universities in the country. UNC has gathered up a legion of fiercely devoted students, alumni, and faculty as evidenced by the student turnout for Tar Heels sporting events. The stands are always packed with cheering fans as their mascot Rameses, a sheep with its horns painted blue, enters the field just before every game is started. Fight for the blue and white!
Website: http://www.unc.edu/about/